When:
December 7, 2018 @ 7:30 pm
2018-12-07T19:30:00-05:00
2018-12-07T19:45:00-05:00
Where:
Whitehouse United Methodist Church
73 Old Hwy 28
Whitehouse, NJ 08888
USA

Contact:
Michael Giangreco
908-342-0875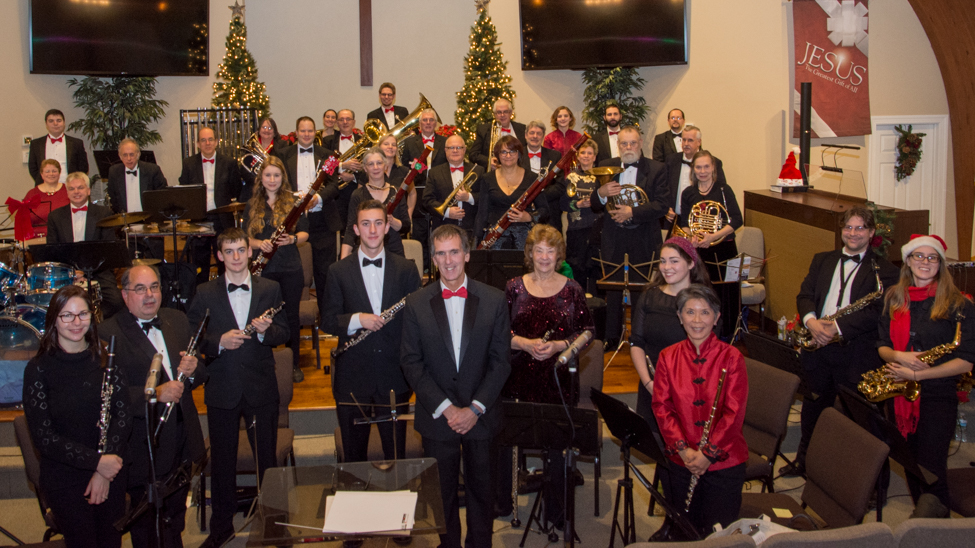 The Whitehouse Wind Symphony, a community band under the direction of Branchburg resident James P. Sheeley, Jr., will present a free holiday concert on Friday, Dec. 7th at 7:30pm at Whitehouse United Methodist Church. This is the first of four holiday concerts the Symphony is performing this year.
This year's program is entitled "A Holiday Celebration!" Concertgoers will enjoy the band's arrangements of classic Christmas carols such as "Good King Wenceslas," "Il est Ne, le Divin Enfant," "Hark The Herald Angels Sing," "God Rest Ye Merry Gentlemen," "Good Christian Men, Rejoice," "Oh Come, All Ye Faithful," and "Here We Come A'Caroling." The band will also play some favorite holiday songs like "Over the River and Through the Woods," "The Most Wonderful Time of the Year," and "Frosty the Snowman."
Also planned is a medley from the animated TV special "How the Grinch Stole Christmas." Audience members will be invited to sing along for "A Christmas Festival," and as is tradition with the band, children will be invited to ring sleigh bells as the band plays "Sleigh Ride" by Leroy Anderson.
All of the Symphony's holiday concerts are free and open to the general public, although donations will be accepted to benefit the band, a non-profit group comprised entirely of volunteer musicians, as well as the presenting churches and foundations. In the event of inclement weather, the announcement to cancel any of these concert will be made on the band's website (whitehousewindsymphony.org) and Facebook page (facebook.com/whitehousewind). Large print programs are available upon request. WUMC is handicapped accessible from the side entrance.
The Whitehouse Wind Symphony was founded by conductor emeritus Casey Bork on April 15, 1996. It is dedicated to presenting the best in all varieties of wind band literature. Since its founding, the band has grown rapidly, attracting experienced musicians as regular members from all over New Jersey, as well as New York City and eastern Pennsylvania. It is now comprised of approximately 50 amateur and professional musicians who perform together regularly to enthusiastic audiences throughout central and northern New Jersey. It was recently voted a finalist of the Hunterdon Happening list in the category of favorite musician/band. For more information, including information about future performances, please send an email to [email protected]
Funding has been made possible in part by the New Jersey State Council on the Arts/Department of State, a Partner Agency of the National Endowment for the Arts, through funds administered by the Hunterdon County Cultural and Heritage Commission.
These Local Businesses Support Our Community! Learn about our AccessPass Members: